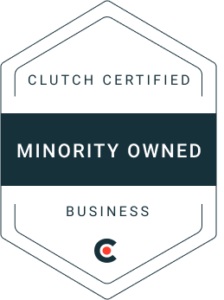 The 95 Agency is Spotlighted as a Certified Top-Performing Minority-Owned Business on Clutch
Since our inception in 2019, We at The 95 Agency have always prided ourselves on our ability to deliver the finest solutions for entrepreneurs and businesses. We are an Atlanta-based all-in-one agency that provides various services, including business management, trademarking, marketing, and web development.
Recently, we've caught wind of a distinction bestowed upon us by a trusted industry resource called Clutch, a B2B review and research platform encompassing the IT, marketing, and business services spaces.
Clutch has an esteemed certification program that aims to showcase the diversity and support socioeconomically disadvantaged companies. The said program allows companies to self-identify their LGBTQ, minority, and veteran-owned identities.
With that being said, we're extremely proud to share with you that The 95 Agency was officially spotlighted on Clutch as a top-performing minority-owned business!
"We believe that BIPOC communities bring a creativity and diversity that can't be substituted or ignored in any element of contemporary society," explained Clutch Business Development Manager DJ Fajana. "Recognizing this group of industry leaders for their accomplishments is not a trend; it is an overdue recognition of the extraordinary charisma, passion, and expertise each and every one of them demonstrated in overcoming the barriers necessary to rise to the positions they occupy today."
Aside from our certification on Clutch, The 95 Agency was also highlighted on The Manifest, an independent business resource that publishes insightful B2B wisdom and how-to guides. According to their platform, our team is among the top 100 minority-owned graphic design companies for 2023!
It's great to start off our new year by being honored for our hard work and recognized for our roots. The 95 Agency is the team it is today because everyone has believed in us. Thank you to everyone who trusted and supported us since day one. We can't wait to conquer the rest of the year with you!
Looking for a team that delivers game-changing solutions? The 95 Agency is here for you! Don't hesitate to contact us anytime to schedule a free consultation for your business!
ELAINE = The 95 Agency – Certification Blog